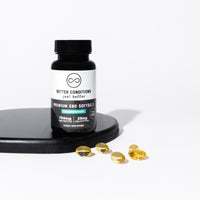 Description
100% THC-Free and Third Party Lab Tested - See Lab Results
Get the CBD support you need at any time of day with our new 25mg CBD Everyday Softgels. Our THC-Free CBD Softgels will provide you with effective and predictable results in an easy-to-swallow format, at any time of day. Broad Spectrum CBD capsules can be found in a variety of places, but Better Conditions CBD Softgels are in a class of their own. When you choose Better Conditions for your daily CBD needs, you can be sure you are getting the best quality products on the market. These Softgels are made with water-soluble nanoemulsion technology, making the bioavailability much higher than an oil-based CBD product - meaning your body will absorb the CBD faster and more effectively.
Product Details
Better Conditions CBD Softgels are made with broad spectrum hemp oil, and many other naturally occurring phytonutrients - the natural plant compounds - which have many beneficial effects, working with other essential nutrients to promote good health. The process known as the entourage effect combines the benefits of CBD with other cannabinoids and terpenes from the hemp plant - meaning you get the best of what the hemp plant has to offer.

Made with broad spectrum cbd, meaning all traces of THC have been removed, making these softgels THC-Free (0.0% THC). Our softgels are made using a water-soluble nanoemulsion technology, increasing bioavailabilty and therefore enhancing the overall effectiveness. This nanoemulsion technology decreases the particle size and transforms our premium hemp extract into a consistency more easily absorbed by your body. By increasing bioavailability, you will achieve similar benefits that you would with a regular CBD product but with a smaller serving size.

Better Conditions CBD Softgels give you the results you've been looking for, and in an easy-to-swallow way. If you are looking for fast and effective CBD results for any time of the day, our 25mg softgels might as well be your new best friend.
Suggested Use
Better Conditions CBD Everyday Softgels are formulated to give you all of the benefits of CBD that you're looking for, in a faster and more effective way. Take 1-2 Softgels as needed at any time throughout the day, whether you need help focusing before a long work day or important meeting, or you need support in reducing overall stress and anxiety, or maybe you're looking to improve overall skin health, or reduce the overall inflammation and pain of your skin and body - the point is, whatever support you're looking to get out of CBD, Better Conditions Everyday Softgels are a great place to start.
Ingredients
Phytocannabinoid-Rich Hemp Extract, Polysorbate Emulsifiers, Medium Chain Triglycerides, Beta Caryophyllene, Bovine-Derived Gelatin, Glycerin, Sorbitol and Water
pure, fast, & effective relief
1. Start your day
2. Swallow 1-2 softgels
3. Feel your anxious thoughts subside, get on with your day feeling less stressed and more focused
PREMIUM QUALITY
SLAY THE DAY
Formulated to absorb quickly, ease your mind, and help you slay the day.

Say goodbye to your anxious thoughts and nonstop mind that keeps you distracted or stressed during the day.